HOST A LUNCH
EVENT AT CENTREPIECE
CORPORATE AND BUSINESS LUNCHES IN MELBOURNE
Looking for a venue to host a business lunch event in Melbourne?
CENTREPIECE is perfect for large-scale lunches, bringing together exceptional facilities and a delectable Victorian-first menu.
With beautiful custom linen, crockery and glassware and signature menus that evolve to suit your needs, every event is elevated at CENTREPIECE.
LUNCH IN STYLE AT CENTREPIECE
Melbourne's rich foodie culture lends itself to incredible lunch events, where fresh seasonal ingredients from across Victoria take centre stage.
CENTREPIECE is the perfect venue for all things business lunch, whether it's a casual speaking event, or a more formal sit-down luncheon.
Whether you are gathering a large group or organising a shorter meet over a meal, our menus bring a taste of our state to your table while you soak in the skyline views of Melbourne.
TAILORED SERVICES
When it comes to planning and delivery, we are committed to bringing your vision to life.
At CENTREPIECE, you get the full suite of event services as standard, along with end-to-end planning support. Our team make the operational side easy, so you can focus on the enjoyment of hosting an incredible event.
You'll receive as little or as much guidance as you like, and with a wealth of collective experience, we can help address emerging issues and connect you with brilliant Victorian suppliers along the way. 
AUDIO-VISUAL, PRODUCTION & STAGING

CENTREPIECE works exclusively with Showtech and Microhire to create spectacular events that display AV, production and staging excellence.

With over 30 years of experience, Showtech Australia is one of the foremost production leaders in the industry. They're able to deliver a broad variety of production services to suit your needs, with safety front of mind.

Microhire is the largest Australian-owned corporate event staging company, with access to the largest and most up-to-date inventory of AV and staging equipment in the Asia Pacific region. With over 25 years of experience, the Microhire team will work with you to deliver cutting-edge technology and innovative staging solutions that transform the space to meet your needs.

Working with the brightest minds in audio-visual, staging and rigging, the CENTREPIECE team looks forward to bringing your vision to life. 
CATERING

Just a stone's throw from some of Melbourne's most famous culinary landmarks, CENTREPIECE provides a platform to share the best food and beverages Victoria has to offer.  

With Victorian-first fresh ingredients and dishes inspired by Melbourne's multicultural melting pot of flavours, the CENTREPIECE menu offers an authentic taste of Victoria.

From multi-course meals to evening cocktails on the terrace, there are countless opportunities to add some foodie culture to your event. 

Our paddock-to-plate philosophy is as much about sourcing the best and freshest ingredients as it is about supporting local growers and producers. An on-site kitchen garden, bakery and butchery allow us to serve up the freshest local produce, with an equally appealing beverage menu.

You'll find locally-brewed craft beer, acclaimed Victorian wine and spirits and, of course, quintessentially-Melbourne espresso coffee.
CLEANING

Presentation and cleanliness are key to the success of your event and the enjoyment of your guests.

Our team places the highest priority on ensuring all spaces, from our back-of-house Green Room to the Grand Hall, are presented to the highest standard.

Our cleaning partner, Quayclean, has serviced some of Melbourne's largest venues and facilities for over 20 years, and with the support of the venue team will ensure that your event is perfectly presented every time.
SECURITY

Melbourne & Olympic Parks (M&OP) works with Australia's leading security company, MSS Security, who provide 24/7 on-site security services and event security workforce to ensure the safety of everyone who visits the precinct.

In partnership with M&OP's in-house event security specialists and staff, we provide front-of-house and back-of-house security services to support the safety, well-being and comfort of your guests, teams, athletes, and talent.
STAFFING

CENTREPIECE clients have access to M&OP's event delivery workforce, with staffing solutions for every part of the event experience, from front-of-house and guest services to production and operations.

With experience working across a range of events, our event delivery team provide exceptional service to every customer, every time.
VIRTUAL EVENTS

CENTREPIECE is a contemporary, state-of-the-art venue designed with connectedness in mind. 

With our range of high-spec, digitally-enabled spaces there are no limits to your event's global reach. 

Our flexible event spaces, from the Grand Hall to the broadcast studios and meeting rooms, are equipped with the latest technology, providing the perfect setting for world-class virtual and hybrid events.  

Online conferences, exhibitions, launches and events have become the new normal, and at CENTREPIECE you can deliver engaging content, facilitate robust conversations, and collaborate in real-time with attendees across the country and around the world.
OUR SPACES
Grand Hall
Flooded with natural light, the Grand Hall offers 2,000 square metres of flexible event space.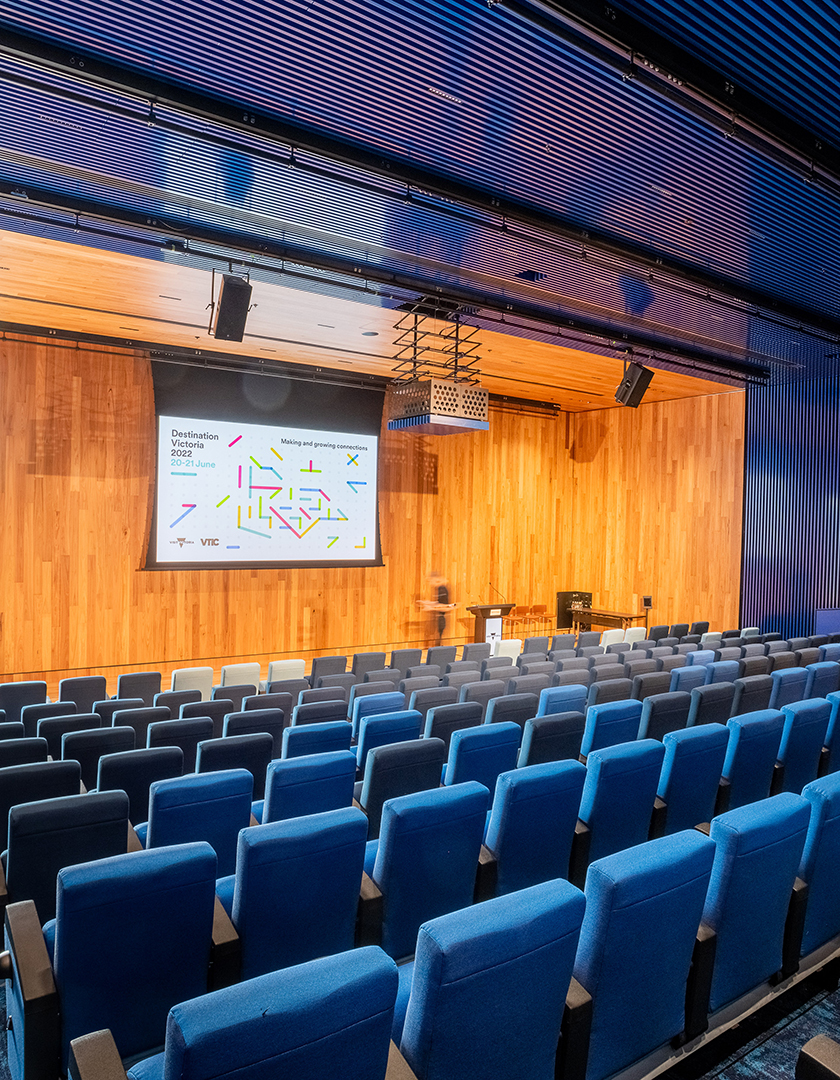 Auditorium
The 250-seat, state-of-the-art auditorium is the perfect complement to your next event.
Meeting Rooms & Studios
Versatile spaces ranging from small 'secretariat' rooms to larger multi-purpose rooms.
Terraces
With dazzling views, these spaces represent best-in-class outdoor venue hire.
Pre-Function
The perfect location for smaller trade show booths, catering and pre-event gatherings.
WHY CHOOSE CENTREPIECE?
As one of the leading event venues in Melbourne, CENTREPIECE has a range of features suited to any corporate lunch event.
STUNNING SPACES
Enjoy sweeping city skyline views, open spaces and a range of rooms that can be tailored to your needs. Whether you're hosting a seated or stand-up event, CENTREPIECE provides a backdrop of stunning spaces to make every event special.
INCREDIBLE LOCATION
CENTREPIECE is perfectly located for events, being just a stone's throw from the Melbourne CBD. With a range of hotels close by, including The Pullman on the Park, there's always an opportunity for guests to book a hotel and elongate their city stay.
FRESH, SEASONAL MENUS
Lunch in Melbourne is always a memorable meal. With fresh seasonal produce from Victorian-first suppliers, we aim to showcase the best flavours of our state while providing something for everyone.
OTHER EVENTS
Gala
Celebrate in style at CENTREPIECE with galas that will mesmerize your guests.
Conference
For any conference or speaking event in Melbourne, being close to the city is a must.
Breakfast
Events in Melbourne are loved for their exquisite food and beverage, with breakfast a specialty.
Cocktail
CENTREPIECE gives you the freedom to host your party exactly the way you envisioned.
Exhibition
Take advantage of CENTREPIECE's unrivalled connectivity with your next exhibit.
HOSTING AN EVENT?
Speak with our team of event-delivery specialists today.